A range of professionals are at risk for injury due to jobs that require awkward positions over prolonged periods of time. This especially applies to the dental profession.
One study in the International Journal of Applied Dental Sciences found that dental professionals (including dentists, dental surgeons, and dental hygienists) most commonly suffer from chronic neck pain, closely followed by shoulder, wrist, and back pain. These dental-related MSDs often result from hunched over posture, long periods of work without rest, repetitive motions, close inspection of the mouth, and increased physical load.
These risk factors are significant and, oftentimes, unavoidable since most are essential duties of being a dental professional. However, this does not mean that injury as a dental professional is inevitable.
Taking preventive measures to protect against the wear and tear your body sustains on the job is especially important. Frequent stretch breaks, paying mind to the use of good posture as you work, and lifting and carrying items close to your body are all preventative measures.
While the cumulative effect of these habits can help dental professionals avoid musculoskeletal disorders, the use of ergonomic equipment is also crucial to your health. One of the most important pieces of equipment is the dental stool. It is important to shop for a dental stool with specific features to help prevent injury and remain comfortable over the course of a standard workday. We've put together some points to think about when shopping for your ideal dental stool.
1. Seat
One of the first features to be aware of is the seat of the stool. It may seem like there is little variety in this area, but details matter. You should look for a seat that accommodates your body type along with the size of your workspace. If you work in a dental office with more space you may opt for a wider, plush seat for more comfort. Other dentists and dental professionals who may be of smaller stature or have less room in their clinic may be more comfortable in a smaller, sculpted chair to allow their legs more stability as they remain seated for extended periods. This typically comes down to personal preference, as various professionals have been comfortable using both options.
Waterfall-style seat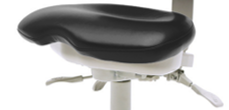 This type offers a gradual divot at the front of the seat that makes room for the upper legs to be positioned at the edge. A waterfall seat makes it easier for you to move your stool using your legs, but also helps you feel secure and well-positioned in the seat. The waterfall-style seat can offer simultaneous comfort and movement.
Find your stool: Check out Brewer's 3000-3300 and 9000-9500 series models for a waterfall-style seat. Explore our stools.
2. Backrest
The rear portion of your chair is an overlooked feature that usually does not get a lot of thought. But the backseat is vital – an improper or ill-fitting backrest can make an otherwise good chair unusable to you. There are several options for backrests that can improve your seating experience.
When looking for the option that is best for you, be sure that your backrest allows your ears, shoulders, and hips to remain relaxed and aligned with one another. You will also want to ensure there is a slight curve in your lower back, as this is the natural tendency of the spine that allows our entire body to remain neutral. Neutral positioning keeps muscles and joints loose, flexible, and pain-free. For this reason, seating accommodations should always encourage neutral positioning of all body parts and neutral positioning of the lower body stems from a supportive backrest.
Sculpted backrest
With grooves that support the lower back and offer mobility toward the upper spine, a sculpted backrest offers a good mix of stability and motion. This combination is vital for optimal positioning and provides dental professionals the ability to be ready for anything required of them – whether that is sitting for long periods of time, getting up and down, or reaching for items while sitting in their stool.
Plush backrest
This larger-style backrest has comfort in mind, but it may not always be the best option for dentists who already have poor posture. Large, semi-soft backrests can encourage sinking into the back of the chair and promote a rounded back, which does not promote the natural curve of the spine. This encourages you to hunch your shoulders, causing pain and tension in the upper back, neck, and shoulders.
Wrap-around lumbar support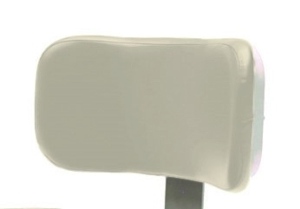 Lumbar support is a good idea in any stool, but most seating options have this feature more subtly with an adjustable cushion in the small of the back. Proper lumbar support in the form of wrap-around comfort allows for cradling of your back, so you can feel stability both laterally and at the base of your spine. Due to the flexible nature of this wrap-around feature, you will still be able to rotate your trunk and twist as needed to fulfill your job duties.
Find your stool: Our 9500 series of ergonomic dental stools feature a wrap-around backrest.
Saddle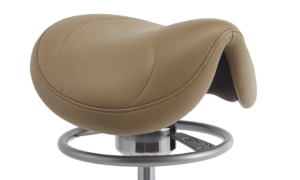 In true "stool" fashion, the saddle-style seating does not have any back support. This option is a great way for individuals to enhance their core strength while minimizing fatigue that may result from sitting for too long. Dentists and hygienists who use saddle stools will also benefit from increased alertness and focus at work due to the activation of central muscles in the body. The saddle stool may not always be the best accommodation for individuals who have existing back injuries, since it does not have the option of support when you need it. However, this is a great way for active dental professionals to strengthen their abdominal muscles, which works synergistically to strengthen the back and prevent spinal injuries.
Find your stool: Brewer offers two saddle stool models, the 135AS (thinner saddle width) and 135JS (wider saddle width).
3. Material
The fabric of your stool is an important consideration for your comfort but can also assist in keeping you healthy. For example, cloth stools with little to no foam inside may quickly become too soft to encourage good posture. Dentists looking for stools or chairs should opt for a middle ground material that is firm enough to be supportive but soft enough to have comfort. Keep in mind that some chairs will soften naturally as you begin to use them. A good material to look out for is HybriGel, which offers cooling technology to minimize sweat or chafing that may occur from prolonged seat use. HybriGel also consists of several layers that evenly distribute the pressure on your backside and legs. By lowering the pressure between your joints and the surface they are in contact with, dentists will experience improved circulation and a lower risk for joint stiffness and injury.
Find your stool: All 9000-9500 series dental stools feature HybriGel.
4. Foot ring
Ideal ergonomics include both feet comfortably resting flat on the floor. However, this may be unattainable for some dental professionals who are of shorter stature. The addition of a foot ring on the legs of your dental stool offers more support for the lower body. This prevents feet from dangling, thus improving circulation and minimizing nerve compression. Some individuals of average height who do not require this feature may even prefer it, as it offers an alternative position for them to assume throughout the day.
5. Body support
The body support can be very beneficial to dental assistant. Body support offers room to easily access several tools in front of you while also providing support to you if you spend excess time reaching or extending your torso.
Find your stool: All Brewer assistant stools come with a body support and foot ring.
As you can see, there are many considerations when choosing a dental stool. Some models are better suited for individuals with certain body types, while others are more appropriate for individuals in specific roles. It is important to research these features beforehand to learn what will benefit your productivity and health the most. Don't do your body a disservice by continuing to use an outdated, broken, or ill-fitting stool. Take a look at Brewer's wide selection of dental stools and reach out to one of our consultants to discuss options that are best for your needs!